February 19, 2016 —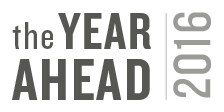 When you look to the year ahead, what do you see? Ensia recently invited eight global thought leaders to share their vision for the environment as it relates to business, culture, ecosystems, energy, food, health, water and the world (see more). In this installment, Danielle Niereenberg, president of Food Tank, answers the question: "In 2016, what could be the biggest global food security success story?"
In 2016, the biggest global food security success story could be diversifying the human dimensions of agriculture by recognizing the important role of women farmers, encouraging investment in women-led agricultural enterprises, and cultivating the next generation of agricultural leaders.
Women make up more than half of the world's population — and nearly half of the world's farmers — but their contributions in agriculture are almost universally ignored. According to the U.N. Food and Agriculture Organization, if women farmers had the same access to resources as male farmers — including land, credit, and banking and financial services — and more decision-making power they could lift as many as 150 million people of out hunger. Additional investment in women farmers would not only help alleviate hunger and poverty but also build more just societies, empower girls and women, and improve the health of entire families and communities worldwide.
At the same time women need support for their contributions to food security, so do young people. Farming populations are aging around the globe — in the U.S., the average age of farmers is 58 while in sub-Saharan Africa it's 56. Yet there are more than 4.5 million unemployed youth around the globe. The food system could provide tremendous economic opportunities for young people, helping them see agriculture as a viable career opportunity rather than something they feel forced to do. Policy-makers need to invest in growing the next generation not only of food producers but also extension agents, agronomists, scientists, policy-makers and food business leaders who work to nourish both people and the planet.

Editor's note: The views expressed here are those of the author and not necessarily of Ensia. We present them to further discussion around important topics. We encourage you to respond with a comment below, following our commenting guidelines, which can be found here. In addition, you might consider submitting a Voices piece of your own. See Ensia's "Contact" page for submission guidelines.
Show your support for nonprofit journalism!
Ensia shares solutions-focused stories free of charge through our online magazine and partner media. That means audiences around the world have ready access to stories that can — and do — help them shape a better future. If you value our work, please show your support today.
Yes, I'll support Ensia!