We all know these are pivotal times. Global climate change, biodiversity loss, water woes, off-kilter ecosystems … the problems are rife.
The good news? Solutions also abound. Citizens, scientists, business and non-profit leaders, policy-makers and others collectively have knowledge and insights that can change the world. What's missing are the stories and the connections. This is where Ensia comes in.
Published at the University of Minnesota's Institute on the Environment, Ensia is a solutions-focused nonprofit media outlet reporting on our changing planet.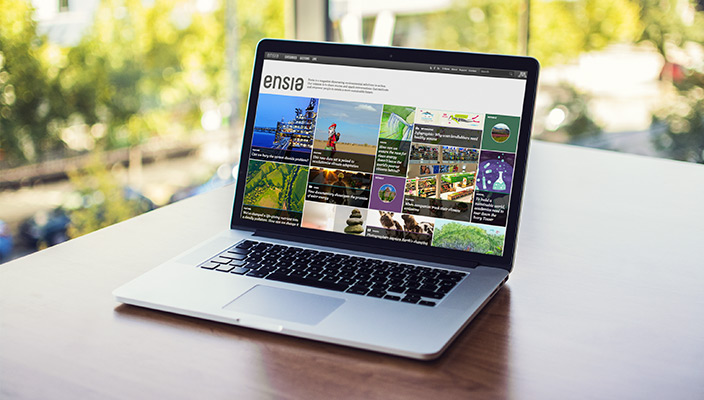 Our mission is to motivate and empower people around the world to create a more sustainable future by sharing stories and igniting conversations across sectors, geographies, ideologies and disciplines.
Since launching in 2013, Ensia has published nearly 500 original feature stories, articles, commentaries and multimedia pieces with content appearing in more than a dozen languages, including English, Spanish, French, German, Russian, Arabic, Portuguese, Japanese, Chinese and Bengali.
We've cultivated a network of more than 50 leading global media outlets — including The Guardian, Business Insider, Scientific American, Public Radio International, Vox and Quartz — that republish Ensia's content, thus increasing Ensia's reach and impact.
All told, Ensia stories inform millions of people annually and have been promoted by thought leaders across sectors, shared during legislative briefings, included in college courses and cited in publications around the world.
In addition, nearly three dozen emerging communicators have been paired with experienced journalists to learn the tools of the trade and produce content through the Ensia Mentor Program — some of whom have gone on to land reporting roles at other publications, communications positions at nonprofits and expanded freelance careers.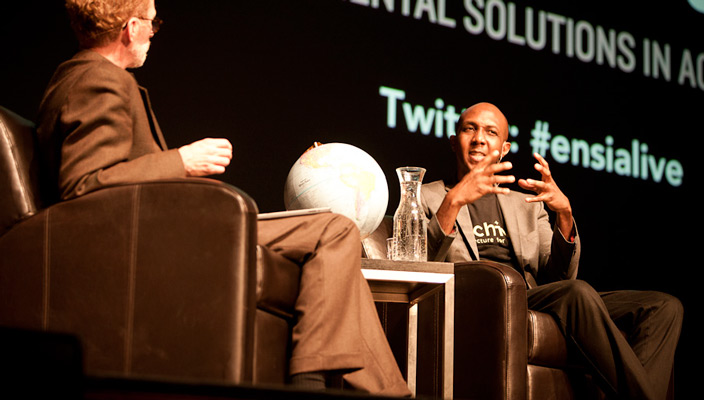 Ensia has received numerous journalism awards. Most recently, our feature story on climate change "hot spots" was named a finalist in the 2018 Online Journalism Awards.
Ensia is a member of the Institute for Nonprofit News — a nationwide network of nonprofit newsrooms serving the public good — and the Solutions Journalism Network.
You can find our work across the internet — Facebook, Twitter, LinkedIn, Instagram, Vimeo, YouTube and more.
Our Story
Ensia was established in 2013 in response to an unsettling situation: Coverage of environmental issues in mainstream media was dramatically declining, while the need to be aware of and responsive to environmental challenges was becoming more critical than ever. Ensia sought to reverse this trend by providing incisive, solutions-focused reporting on some of the most important and neglected issues of our time.
Today, in a world where the media and the very idea of truth are under attack, Ensia represents a credible, nonpartisan voice shedding light on how we address the challenges we face living on a planet as the environment changes around us.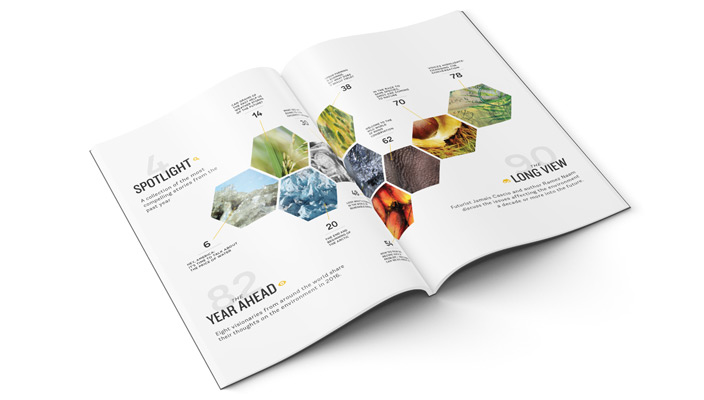 Every day we work to build awareness and understanding of urgent environmental problems — and promising solutions to those problems — across sectors and ideologies. We shine a light on undercovered stories, critically examine solutions and provide a forum for underrepresented voices that are making the world a better place. We bring much-needed understanding and perspective to a tumultuous world.
What We Stand For
As a mission-driven publication operating with the highest standards of journalism ethics, Ensia is guided by the following beliefs:
High-quality journalism is critical to informing public discourse
Journalism needs to report on solutions as well as problems
The environmental challenges facing the planet are massive but solvable
Where ideologies, sectors and geographies intersect, new insights emerge
Nonpartisan does not mean non-thinking
A clean, healthy environment is core to human well-being
Environmental problems are everyone's problems
Science is necessary but not sufficient alone for solving environmental challenges
The Ensia Portfolio
Our portfolio spans the spectrum from engaging online content to thought-provoking live events.
Ensia Online
Through incisive storytelling, provocative commentaries, compelling images and engaging multimedia, ensia.com showcases solutions to the Earth's biggest environmental challenges. Our contributors include both top-tier journalists and established and emerging leaders from around the world.
Ensia Edge
Edge is where we explore pressing environmental challenges in-depth through the use of engaging multimedia storytelling.
Ensia Print
Ensia's annual print issue uses award-winning design to share our most important, enduring stories and commentary with select thought leaders and frame conversations about issues that will be emerging in the year ahead.
Ensia Live
Ensia's events bring the world's best minds together around specific environmental topics to move conversations forward from global challenges to game-changing solutions.
Ensia Partnerships
Ensia collaborates with leading media outlets around the world who share our content with a global audience in the millions.
Ensia Mentor Program
The Ensia Mentor Program gives emerging journalists and scientists a voice by inviting them to propose stories, then pairing them with seasoned environmental journalists to develop and publish their work at Ensia.
Republishing
We are glad to share Ensia articles under the terms of Creative Commons' Attribution-NoDerivs 3.0 Unported license. Please be sure to attribute the writer and Ensia as the original source and link to the Ensia article at the beginning of your repost. You are also welcome to post just the beginning of an article with a link to Ensia to continue reading. Please also send an email to contact@ensia.com with a link to the republished article or feature on your site.
Images and other visuals are not included in this license. For overall questions related to republishing, please email contact@ensia.com. For specific questions related to visuals, please email us.
The views expressed at Ensia are those of the sources and not necessarily of Ensia, the Institute on the Environment, the University of Minnesota or other funders or partners.

Commenting
Ensia welcomes comments on content we publish. While we are open to airing controversial and unpopular viewpoints, comments, like the rest of our content, should move conversations forward constructively toward solutions. We reserve the right to edit or to choose not to publish comments we deem to contain inappropriate content, including name calling, offensive language, verbal abuse, etc. Comments that are self-promoting in nature and offer little to the conversation will likely not be approved.
Funders
Ensia's online and print magazine and event series is made possible through the support of the University of Minnesota's Institute on the Environment, grants and contributions from the Gordon and Betty Moore Foundation, the Rita Allen Foundation, the Stanley Family Foundation, and donations from private individuals, including Jeff and Mary Werbalowsky, Ross and Bridget Levin, Todd Reubold (Ensia publisher), and donors who have contributed less than $1,000 each annually.
Ensia also receives support from NewsMatch — a national matching gift campaign for nonprofit newsrooms supported by Democracy Fund, the John S. and James L. Knight Foundation, the Jonathan Logan Family Foundation, the John D. and Catherine T. MacArthur Foundation, the Ethics and Excellence in Journalism Foundation and the Facebook Journalism Project, along with supporting partners across the U.S.
Per the Ensia ethics statement, donors "have no say in specific stories pursued and how they are reported and written."
Ethics Statement
At Ensia, we recognize that journalistic integrity is key to success in accomplishing our mission, and we are committed to doing our work honestly, fairly, transparently and with excellence. Our code of ethics, produced using guidance from the Online News Association's Build Your Own Ethics Code project and the ethics codes of other online and print publications and journalism organizations, offers some specific examples of what we do and do not do to achieve this goal.
To learn more, download the Ensia ethics statement.
Awards
Ensia's online and print magazine, event series and multimedia productions have received national and international recognition. The awards are a testament to the creativity and dedication of the Ensia team and its commitment to excellence in environmental communications.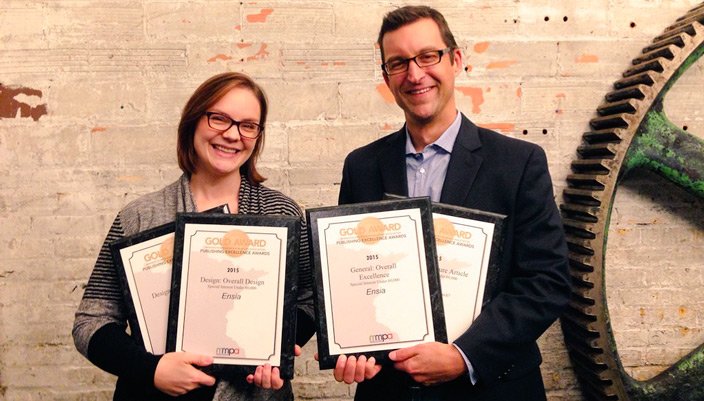 Ensia has been recognized with over 100 regional and national editorial and design awards. Our feature story on climate change "hot spots" was named a finalist in the 2018 Online Journalism Awards. Ensia received Eddie and Ozzie Awards from Folio: magazine in 2014 and 2016 for overall editorial excellence. Three of our stories were included in the Notable section of the Best American Science and Nature Writing 2015. AIGA, one of the world's largest professional organization's for design, recognized Ensia with a Judge's Choice Award in the 2013 (Re)design awards competition. We've also won numerous awards from the Minnesota Magazine and Publishing Association (2016, 2015, 2014, 2013, 2012, 2011, 2010, 2009), including Gold awards for overall excellence, overall design, feature writing and more.