In a nutshell, yes. From informing policy, to bringing attention to beneficial innovations, to creating solutions-generating conversations across disciplines and sectors, Ensia's stories pave the way for positive change the world.
Since launching in 2013, Ensia has published nearly 500 original feature stories, articles, commentaries and multimedia pieces with content appearing in more than a dozen languages. We've cultivated a network of more than 50 leading global media outlets that share our content with diverse audiences around the world, dramatically increasing Ensia's reach and impact.
Ensia stories have been shared during legislative briefings, promoted by thought leaders across sectors, included in college courses, cited in publications around the world and named as recipients of numerous journalism awards. All told, Ensia provides millions of people each year with new, solutions-focused perspectives on environmental challenges.
In addition, nearly three dozen emerging communicators from around the world have been paired with experienced journalists to learn the tools of the trade and produce content through the Ensia Mentor Program — some of whom have gone on to land reporting roles at other publications, communications positions at non-profits and expanded freelance writing careers.
Reducing Water Conflict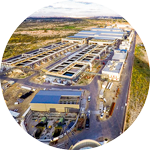 Ensia's story on drought and the growth of desalination technologies, "How a new source of water is helping reduce conflict in the Middle East," has been read by more than 500,000 individuals around the world via our own site, Scientific American, FERN's Ag Insider and other outlets. The Financial Express, India's primary daily business news and opinion media source, used it as the basis for an opinion piece encouraging India to increase its investment in desalination. And the California Academy of Sciences included it in its Education Center materials for teachers.
Alerting Communities to Climate Threats
In June 2017, our "Hot Spots" multimedia story brought climate change home to roost for individuals around the world by shining the spotlight on seven regions that are particularly vulnerable to climate change. Co-published with The Guardian, the piece garnered tens of thousands of views and led the Dhaka Tribune to produce an article alerting Bangladeshis to the need to prepare for specific anticipated climate impacts. This feature story on climate change was named a finalist in the 2018 Online Journalism Awards.
Saving Children's Brains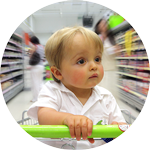 In recent decades scientists have begun to recognize that infants and children are far more vulnerable to chemical exposures than are adults.  "What are we doing to our children's brains?" provides a sobering look at the problem, along with strategies to address it. This story garnered more than 5,000 Facebook and Twitter mentions and generated dozens of online comments. It was republished by Quartz and Global Voices and translated into eight languages. It has received more than 20,000 page views at Ensia alone. More than three years after it published, the piece continues to be frequently accessed.
Using Genetic Engineering in Conservation
Unbeknownst to most of us, scientists around the world are exploring the idea of genetically modifying wild plants and animals. As this novel approach to conservation advances, it's critical citizens and policy-makers have a clear understanding of what's being proposed so we can make informed and intelligent decisions about deploying it. "In the race to save species, genetic engineering is coming to nature" has been viewed by more than 350,000 people. In addition, the piece has been cited as a resource at the Genetic Literacy Project and BIOtechNOW.
Rethinking Road Salt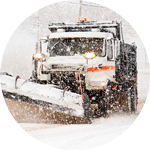 The use of pavement de-icing chemicals has skyrocketed, helping to make salt one of the most pernicious water pollutants in the U.S. Yet there exist bountiful opportunities to reduce use without compromising safety. With close to 11,000 page views at Ensia and mentions and republications in numerous other outlets, "We're pouring millions of tons of salt on roads each winter. Here's why that's a problem" raised visibility of the problem and potential solutions among policy-makers. Among others, It was used in outreach efforts of the Ramsey-Washington Metro Watershed District and engaged Minnesota legislators via social media.
Debating GMOs
Food systems researcher Maywa Montenegro dove into the GMO debate in "The complex nature of GMOs calls for a new conversation." The piece has been viewed over 30,000 times at Ensia, with readers averaging more than eight minutes reading it. It was republished by Business Insider, Public Radio International, Quartz and others, garnering hundreds of thousands of additional views. Thought leaders — including Michael Pollan, who called the piece "important and brilliant" — shared it across social media. The piece has been included in class syllabi and Congressional briefings, and Montenegro has been invited to speak around the country on the topic.
Untrashing Oceans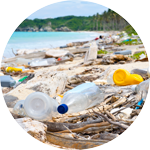 Some 10 to 20 million metric tons of plastic enter the ocean each year. Distributed by currents, marine plastic alters ecosystems, injures and kills animals, and even makes its way into seafood. Ensia's piece on possible solutions, "What will it take to get plastics out of the ocean?", has been viewed by more than 10,000 change makers. It was republished or linked to by Vox, Corporate Knight, GreenBiz, Business Insider, Mother Earth News and AlterNet, and was one of Corporate Knights' top 10 most viewed articles in March 2016. The piece has been the subject of more than 1,300 tweets and nearly two dozen reader comments.
Maintaining a Circular Mindset
As an Ensia Mentor Program participant, Guido Rutten profiled an African farmer who is working to retain the sustainable dimensions of traditional agriculture as he modernizes his operation. The story, "This Kenyan farmer is modernizing — and maintaining a circular mindset," was republished at GreenBiz and has been shared extensively within the development community, including via Twitter by the Center for Environmental Change and Human Resilience (164K followers), the International Fund for Agricultural Development (66.5K followers) and the Rainforest Alliance (194K followers), expanding awareness of the circularity of traditional systems and the value of keeping a circular mindset as systems evolve.
Preparing to be Megacities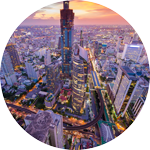 After running across new research suggesting that cities of the future are likely to be "unimaginably huge," former Guardian environment editor John Vidal proposed an Ensia Edge piece on the projections and implications of rapid urbanization. Combining science, gripping narrative and striking visuals, "Here come the megacities" is helping urban areas around the world recognize the challenges facing them and identify early on strategies for maximizing the benefits and minimizing threats of unprecedented growth.
+ + +
Has one of our stories changed your life in some way? Do you know of other ways our stories have made a difference in the world? If so, we'd love to hear about it. Please share your thoughts on Twitter @ensiamedia or email interim editor in chief David Doody at david@ensia.com.