Ensia's advisory council includes business leaders, award-winning journalists, strategic communicators, visionary thinkers and global environmental thought leaders. Working with the publication's leadership, the council helps maximize Ensia's impact by providing guidance on overall strategy, growth, fundraising, business development and partnerships across sectors.
Amy Skoczlas Cole | Managing Director, National Water Initiative, American Public Media | Executive Director, The Pentair Foundation (former)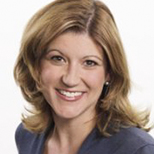 Amy Skoczlas Cole is the managing director of American Public Media's national water initiative. She previously served as vice president of corporate citizenship for Pentair — a global industrial company with deep expertise in water, food processing and energy management technologies. There, she lead a shared value program of work designed to secure safe water, sustainable food and affordable energy for society today and in the future through deployment of the company's expertise, products and philanthropic dollars.  She also oversaw the company's sustainability efforts, and was executive director of The Pentair Foundation, one of the largest corporate foundations in Minnesota. The Pentair Foundation has secured safe, sustainable water for over 1 million people to date and provided over $50 million in funding to improve the quality of life of communities where Pentair works. Prior to Pentair, she served as eBay Inc.'s most senior sustainability leader, spearheading customer engagement programs, improving the company's environmental performance and championing industry initiatives on sustainability.  She was also spent 13 years as vice president of corporate partnerships with Conservation International. While with the global NGO, she was co-founder and vice resident of CI's Center for Environmental Leadership in Business. For well over a decade, she engaged business leaders across a wide range of industries in creating strategic sustainability programs that benefited the global environment and the bottom line.
Jessica Hellmann | Director, University of Minnesota Institute on the Environment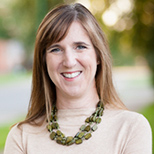 Jessica Hellmann is the director of the Institute on the Environment at the University of Minnesota. As director, she provides overall strategic leadership for the Institute, an internationally recognized organization working to solve grand environmental challenges, while promoting interdisciplinary research, teaching and leadership across the university and engaging external partners and stakeholders. She is also the Russell M. and Elizabeth M. Bennett Chair in Excellence in the Department of Ecology, Evolution and Behavior in the College of Biological Sciences. Hellmann's research focuses on global change ecology and climate adaptation, and she was among the first to propose and study ways to reduce the impact of climate change through new techniques in conservation management. A skilled science communicator, Hellmann is routinely called upon by leading media outlets around the world such as CNN, NPR, Fox News, The Telegraph and the Chicago Tribune to provide expert input on topics related to global change and ways to minimize adverse impacts to people and nature.
Bob Lalasz | Founder and Principal Consultant, Science+Story Communications | Director of Science Communication, The Nature Conservancy (former) | Editor, Cool Green Science (former)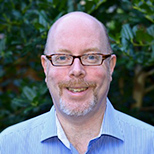 Bob Lalasz is the founder & principal consultant of Science+Story Communications, which he started in 2015 after a long career in strategic and digital marketing and communications for groups driven by ideas and science. He was previously the director of science communication at The Nature Conservancy and the editor of Cool Green Science. A longtime editor and writer, he was previously TNC's associate director of digital marketing. He has blogged about TNC's scientific research and on-the-ground work as well as larger conservation science and science communications issues. During his role as the strategist and tactician for TNC's website, the website won the 2009 Webby Award and 2009 People's Choice Webby Award for best charitable non-profit website. He has also been a freelance writer who has written arts criticism, features and long-form journalism for leading newspapers and magazines such as The Wall Street Journal, Washingtonian Magazine, The Raleigh News & Observer and the Milwaukee Journal-Sentinel.
Celeste LeCompte | Director of Business Development, ProPublica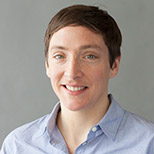 Celeste LeCompte is the director of business development at ProPublica. In her current role, she works with partners in and out of the newsroom to grow the impact and sustainability of the ProPublica's journalism. As a media entrepreneur and journalist, her work has largely focused on innovation and the environment. LeCompte previously served on the launch team for Gigaom Research, a market research service specializing in emerging technologies. As director of product and special projects editor, she developed editorial strategy, oversaw consumer sales and managed partnerships with major media outlets. LeCompte was also a co-founder and business manager of Climate Confidential, a crowdfunded reporting project that examined the intersection of environment and technology in collaboration with national and local media partners, and the managing editor of Sustainable Industries, a pioneering sustainable business magazine. She has advised on product development and content strategy for numerous media companies, nonprofits and corporate clients. As a 2015 Nieman Fellow at Harvard University, LeCompte studied motivations for news consumption, with an eye toward developing new, reader-centric media business models.
Bridget Levin | Founding Principal & Creative Director, Nametag International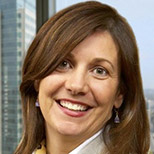 Bridget Levin is founding principal and creative strategist at Nametag International, Inc. She co-founded the groundbreaking brand strategy and naming firm to consult to predominantly Fortune 100, 500 and large regional and multinational organizations. Her expertise includes branding, global trends and marketing innovation. Prior to establishing the firm she worked in the television, publishing and marketing agency industries. Levin serves on numerous non-profit boards in the environmental arena, including as a trustee of The Nature Conservancy (MN/NDAK/SDAK Chapter), as co-chair of the Global Advisory Committee and Marketing Advisory Council, the Will Steger Foundation as Governance Chair and The Minnesota Landscape Arboretum. She is a published author, speaker, writer and photographer.
Tim Mulcahey | President and CEO, RMC Learning Solutions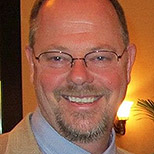 Tim Mulcahey is President and CEO of RMC Learning Solutions — one of the fastest-growing and most successful training organizations in the project management industry. Prior to his current role at RMC Learning Solutions, Tim was U.S. Counsel for Canadian Pacific, Ltd. He also serves on the Board of Trustees for the Minnesota Zoo Foundation. Tim has a Juris Doctor in Law from Hostra University. He's also an accomplished writer and author. Tim currently resides in Minneapolis, Minnesota.
Jeff Werbalowsky | Co-Chairman/Senior Managing Director, Houlihan Lokey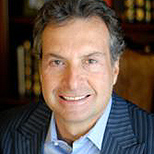 Jeff Werbalowsky is the co-chairman of the board of Houlihan Lokey. He was co-CEO of the firm for more than a decade, and is the co-founder of the Financial Restructuring Group. He is based in the firm's Minneapolis office. Before joining Houlihan Lokey, Werbalowsky was the CEO of Cheviot Capital Corp., which sought investments in situations of corporate distress. Before that, he was a member of Levene and Eisenberg, and earlier, was an associate with Gibson, Dunn & Crutcher, where he practiced law and specialized in bankruptcy, corporate reorganization and insolvency cases. Werbalowsky has written a number of articles, including "Reforming Chapter 11: Building an International Restructuring Model," "Allocating Value In Canadian and American Restructuring Transactions," "Advising the Distressed Company," "Evaluating Distressed Securities," "Buying and Selling the Distressed Company" and "Deleveraging the Troubled Company." He has also testified as an expert witness on a variety of restructuring and distressed security issues. He earned a B.A. in Economics, magna cum laude, from the University of Virginia and a J.D. with honors from Columbia University, where he was a Stone Scholar for three years and an editor of the Columbia Law Review.
Andrew Zolli | Co-Chairman/Senior Managing Director, Houlihan Lokey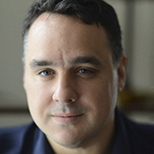 Andrew Zolli works at the intersection of global innovation, foresight, social change and resilience. He is currently Vice President of Global Impact Initiatives for Planet. Zolli is also a noted author — most recently of the book Resilience: Why Things Bounce Back — and has served as the primary creative and curatorial force behind PopTech. In addition to the above, he has served as a Fellow of the National Geographic Society. He also strategically advises, and speaks regularly to a wide array of leading companies, governmental organization, NGOs, startups and cultural and civil society groups. He has advised senior leadership teams at companies including GE, PwC, Nike and Facebook. He serves on the Boards of the Brooklyn Academy of Music (a vanguard contemporary performing arts center), the Garrison Institute (a forefront non-sectarian organization exploring the intersection of contemplative practice and engaged action in the world) and Blurb (a breakthrough personal publishing platform).