January 6, 2017 —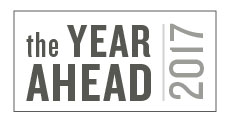 When you look to the year ahead, what do you see? Ensia recently invited eight global thought leaders to share their thoughts. In this interview with Ensia contributor Lisa Palmer for Ensia's 2017 print annual, Christiana Figueres, former executive sectretary of the United Nations Framework Convention on Climate Change, responds to three questions: What will be the biggest challenge to address or opportunity to grasp in your field in 2017? Why? And what should we be doing about it now?
A host of trends threatens to undermine the stability and security of our communities, including widening inequality, record youth unemployment, rapid urbanization, increasing pressure on resources, commodity price volatility and, exacerbating all of this, an increasingly unpredictable and extreme climate.
In 2015, the world came together and agreed we would not let these trends run rampant through our societies — that, instead, we would work toward a common set of positive goals. The Sustainable Development Goals, Paris climate change agreement and Sendai Framework for Disaster Risk Reduction together provided us with a common vision for a more peaceful and resilient world.
Now we need to buckle down and build it, even if we encounter unexpected resistance or challenges to our agreed goals. That means ensuring that every decision we take as a society is aligned with the goals we have set. Our fiscal and monetary policy, our infrastructure and planning decisions, our social welfare provision — all of this must point in one clear direction, so that no flank of our actions undermines the rest.
We will not be able to build more peaceful and resilient communities if in the pursuit of our objectives we run roughshod over each other's priorities and concerns. Instead, we must come together to, for example, understand what actions we take to limit temperature rise to 1.5 °C (3.6 °F) mean for how we use our land, how they can be harnessed as opportunities to reduce youth unemployment and deliver more inclusive prosperity, how they can offer opportunities to bring energy access and economic opportunity to the remotest of places through technologies such as decentralized solar. Not only is opening up this wider invitation to a world of opportunity the right thing to do — it is our best insurance against alienation, anger and violence.

Editor's note: The views expressed here are those of the author and not necessarily of Ensia. We present them to further discussion around important topics. We encourage you to respond with a comment below, following our commenting guidelines, which can be found here. In addition, you might consider submitting a Voices piece of your own. See Ensia's "Contact" page for submission guidelines.
Show your support for nonprofit journalism!
Ensia shares solutions-focused stories free of charge through our online magazine and partner media. That means audiences around the world have ready access to stories that can — and do — help them shape a better future. If you value our work, please show your support today.
Yes, I'll support Ensia!