December 14, 2017 — This has been a big year for environmental challenges. Once-in-a-lifetime hurricanes barreled across the North Atlantic Ocean, Caribbean and the Gulf of Mexico. Wildfires raged across the American West, Australia and elsewhere. After recent progress, deforestation saw an uptick in the Amazon. And record low sea ice was observed in the Arctic.
But there was positive news, too. Solar energy is booming in India. China is winding down its ivory market. American cities and states are unifying to tackle climate change. Tesla installed with the world's largest battery in South Australia. And major automakers just announced plans to ethically source materials for electric vehicles.
At Ensia, we bring you the stories behind the stories, digging in and connecting dots to paint a more comprehensive picture of what people are doing to address Earth's biggest environmental challenges. Among the pieces that resonated most with our readers in 2017, and that deserve another read for insight and perspective as we head into a new year:
#10: A close-up look at seven climate change "Hot Spots"
We've been hearing for years that not all parts of the planet are expected to warm equally. This story by John Vidal, former environment editor for The Guardian, looks at seven regions poised to really feel the pain.
As Vidal writes in the opening, "Mapping the world's climate 'hot spots' and identifying where the impacts will be the greatest is increasingly important for governments, advocacy groups and others who need to prioritize resources, set goals and adapt to a warming world."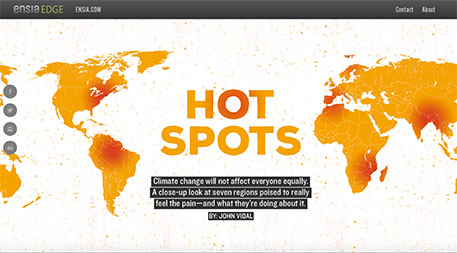 Part of our new Ensia Edge platform, this expansive story features full-color photos and informative multimedia graphics, and was published in partnership with The Guardian.
#9: OPINION: What we need are farms that support farmers, consumers AND the environment
In this opinion piece, agronomist Andrea Basche and agroecologist Marcia DeLonge contend "agroecology offers a promising approach to solving food system problems while mitigating, water and energy concerns." The researchers go on to outline five obstacles that need to be overcome if we're to move toward more diverse farming systems.
#8: To avoid climate catastrophe, we'll need to remove CO2 from the air. Here's how.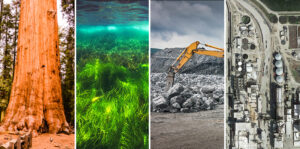 In this explanatory piece, Ensia's editor in chief, Mary Hoff, compares and contrasts eight different approaches for removing carbon dioxide from the atmosphere. The bottom line? Solutions exist, but there's work to be done. As Mary writes in the piece, "First, there is a lot of potential to augment efforts to reduce CO2 emissions with strategies to increase the removal of CO2 from the atmosphere. Second, there's a lot of work to be done before we're able to do so at a meaningful scale and in a way that not only closes the carbon gap but also protects the environment and meets more immediate human needs."
This story was also voted "favorite story of the year" in a recent poll of Ensia readers.
#7: OPINION: Climate change is more than a tech problem, so we need more than a tech solution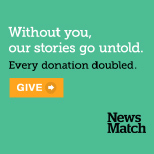 Energy researcher Martin J. Boucher and ecological anthropologist Philip Loring argue in this opinion essay that's what's missing from most discussions of how to address climate change is "the fact that the world is a complex system, and systemic problems require systemic solutions." The researchers go on to say, "The root causes of climate change are not technologies such as coal power and industrialized, chemical-intensive agriculture, but the underlying social and cultural systems that created and locked people into these technologies through unsustainable patterns of consumption, growth and inequity."
#6: As hundreds of golf courses close, nature gets a chance to make a comeback
When this story was initially proposed, one our editors asked, "Is this really a widespread phenomenon?" Turns out the answer is, "Yes." In 2016 alone, 211 U.S. golf courses closed their doors, providing a once-in-a-lifetime opportunity for nature preserves to sprout up in urban and suburban locations across the country.
#5: What does the environment have to do with diseases that affect the immune system?
"In 1932, New York gastroenterologist Burrill Crohn described an unusual disease in 14 adults. The patients had bouts of abdominal pain, bloody diarrhea, and lesions and scars on the bowel wall." So opens this compelling and urgent feature story by science journalist Lindsey Konkel exploring how changes to the environment over the past nine decades are leading to an increase in immune-mediated disease around the world.
#4: OPINION: How renewable energy advocates are hurting the climate cause
In one of our more controversial Voices pieces this year, science and environmental writer Paul McDivitt took renewable energy advocates to task for conflating capacity and generation when talking about renewable energy's global footprint. Why does getting this right matter? As McDivitt went on to say, "If members of the public think we're well on our way to throwing fossil fuels into the dustbin of history and replacing them with renewables, they'll be less likely to demand new policies and take actions to lower their own carbon footprints."
#3: What can blockchain do for the environment?
What is blockchain? Our third-most-read story of the year had to answer this question before diving into the impact blockchain might have on a range of environmental issues.
As London-based technology journalist Alistair Dabbs explained, "People with interest and influence related to the environment are waking up to blockchain's potential to boost the sustainability of industries such as forestry, energy, fisheries, organic food and mining, as well as improve carbon accounting, air pollution monitoring, material recycling and more."
# 2: How a new way of thinking about soil sparked a national movement in agriculture
Our second-most-read story of the year — written by a scientist participating in the Ensia Mentor Program — was about the ground beneath our feet. The piece opens with a powerful example showing how "soil is alive, that it can be sick or healthy." Since soil literally forms the foundation of modern agriculture, the state of the world's soils matters to all of us.
And that brings us to our most-read story of 2017 …
#1: We're pouring millions of tons of salt on roads each winter. Here's why that's a problem.
Perhaps it was the timing (the story was published at the start of winter in the northern hemisphere) or the fact that a large number of our readers live in cold climates, but whatever the reason this story on road salt — and efforts to develop more environmentally friendly alternatives while ensuring safe winter driving — is our most popular story of 2017.
BONUS
For more don't-miss stories before we turn the calendar to a new year, check out Ensia editors' personal picks for 2017:
1: A look at hazardous vapors seeping into homes and buildings across America
2: A summary of efforts to make California's greenhouse gas laws more equitable
3: A profile of conservation dogs protecting threatened species
4: A report on advances in mining the darkest depths of the ocean
5: The story of how ranchers and grizzlies are finding new ways to co-exist in Montana
6: The call to rebuild after disaster with nature in mind.

Show your support for nonprofit journalism!
Ensia shares solutions-focused stories free of charge through our online magazine and partner media. That means audiences around the world have ready access to stories that can — and do — help them shape a better future. If you value our work, please show your support today.
Yes, I'll support Ensia!