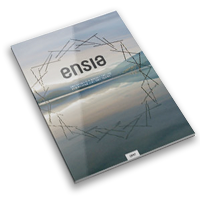 This second annual "Best of Ensia" print issue showcases and expands upon some of Ensia magazine's top online stories from 2016 on topics ranging from global deforestation and nuclear power to plastics in oceans and GMOs. It also offers eight experts' responses to three thoughtful questions: What will be the biggest challenge or opportunity in your field in 2017? Why? And what should we be doing about it now?
To request a hard copy or to sign up for Ensia's 2018 print annual, send your mailing address to contact@ensia.com. We invite you to make a contribution as your circumstances allow to defray the cost of printing and mailing.
Download the PDF or view on issuu.com.
Read past issues of Ensia.